Tachograph Services
---
Site Map & Contact
---
Content Visual
---
Printouts
DTCO 1381 Sample Printouts
The data recorded by the digital tachograph can be printed out on special printer paper. These printouts replace the tachograph chart.
Guidelines
Some printouts (e.g. the Technical Data printout) are part of the inspection documents. They prove that the inspection has been performed in compliance with legal stipulations.
Recording relevant data electronically ensures that the data is available, easy to understand and reliable. Printing this data provides an indisputable record of
the driver's activities over the last few days and
vehicle usage over the last few months.
Important
Please observe the legal regulations in force in your country for printouts, particularly the obligation to keep these printouts.
In Germany companies must keep digital recording equipment printouts for at least 12 months.

Printouts must be stored in such a way that they are not damaged (become illegible) by light, sun, damp or heat.
Important
Upon request, customers can have their individual logos imprinted on the printouts.

Data block specifications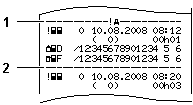 Each printout consists of a succession of different data blocks that are indicated by block identifiers (1).
A data block contains one or more data records that are identified by a data record identifier (2) (unlike the block identifier without pictogram).
No data record identifier is printed directly after a block identifier.
Sample Printouts

Driver (Driver Card)

Vehicle (DTCO 1381)

Other

Sample Printouts

Creating Printouts

Sample Printouts

Creating Printouts

Storage Behaviour & Messages